JONESBORO, Ark. – Few reporters have covered as many murder cases with the passion of long-time journalist and author, George Jared.
In his newest book, Whispers in the Willows, Jared explores three unsolved murder cases he's covered throughout the years, and more. The primary focus is on victims Rebekah Gould, Karen Johnson Swift, and Amanda Tusing. All three were murdered. No evidence exists of sexual assault in any of the cases, an unusual factor, Jared said.
No one has ever been charged in any of the three aforementioned cases.
With the first season of the Hell and Gone podcast bringing new attention and life to the case of Rebekah Gould's murder, Jared plans a very comprehensive break-down of all the new findings in the needless murder.
"A lot of new witnesses and implications have come to the surface," Jared said. "I've got some expert analysis in that chapter of the new evidence that has come out. It is literally the most comprehensive review of everything which has happened in that case that has been done."
Another case, which Jared has been following for many years, is the murder of Amanda Tusing.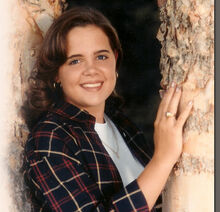 Tusing vanished on June 14, 2000. Her body was found in a nearby ditch. She was dead before she hit the water. In his book, Jared interviewed investigators and detectives who have worked on the case over many years. He finally sat down with the lead investigator on the case over a year ago and Jared said they hashed it out.
"This case, I had to use more anonymous sources because people didn't want to talk about it," Jared said. "There's a possibility that a law officer may have been involved in her murder."
The third case began in October, 2011. Karen Johnson Swift, a mother of four, went missing. Two months later, her skeletal remains were found in a cemetery near her home.
"Her husband and her family are basically from Pocahontas," Jared said. "She and her husband were getting divorced and she vanished a few weeks after filing. She vanished in Halloween 2011 and then her body was found in a cemetery not far from her house underneath some bushes. She left behind two college-age sons and two grade-school age daughters."
---
Jared said his book also has chapters that include other cases, too. Some of those chapters chronicle Holocaust survivors that Jared interviewed throughout the years. During his original stories with those subjects, Jared won Feature Writer of the Year from the AP and Arkansas Press Association. One of the survivors, Henry Greenbaum, describes watching five of his siblings die at the hands of the Nazis.
The book also delves into Arkansas' death row, which made it back into the news in 2017. Jared was present for three of the four executions including the first double execution in 20 years in the United States. He chronicles those experiences and cases, too.
The Book's Title
"I just have a feeling that a lot of murderers, at some point…these [killers] told somebody," Jared said. "Usually, it's a quiet whisper because you don't want anyone to know you committed this horrible heinous crime."
The long-time reporter told NEA Report his book title has meaning in correlation with a lot of the cases in the book, especially the three unsolved murder cases. Some of the cases' only hope of being solved lie in the hands and on the conscious of potential witnesses. If a suspect "whispered" about his or her guilt during an incident, it could be the missing link to the puzzle.
Willow trees are another deliberate choice Jared made to include in the book. A willow's branches reach toward the ground and raindrops falling from the branches resemble tears, giving it the name "weeping willow." Willow trees are prevalent in fiction but throughout cultures across the world, too. In Japan, the willow represents "ghosts." In Chinese culture, a willow branch can ward off evil spirits. In Buddhism, the willow branch represents compassion.
It may be that last trait that can most be closely identified with the author. Jared takes a deep personal interest in these cases and others he covers, often becoming close with the family of the victims. His hope is that his work will lead to justice for families who have suffered without answers for too long.
Today (Friday, August 16) is the official release date for Jared's new book.